7 July 2019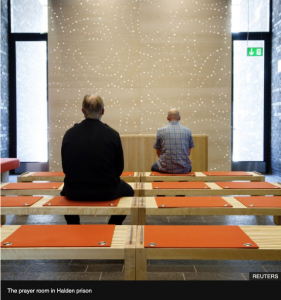 How Norway turns criminals into good neighbours
What is the point of sending someone to prison – retribution or rehabilitation? Twenty years ago, Norway moved away from a punitive "lock-up" approach and sharply cut reoffending rates. The BBC's Emma Jane Kirby went to see the system in action, and to meet prison officers trained to serve as mentors and role models for prisoners.
---
5 July 2019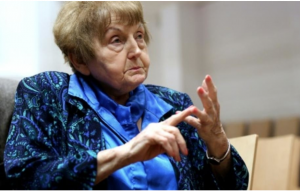 Eva Kor, survivor of Auschwitz doctor Mengele, dies in Poland
Eva Mozes Kor, a survivor of Auschwitz and the death camp's infamous doctor Josef Mengele, has passed away in Poland during a trip to the Holocaust site, sources said.  The Romanian-born Kor, who founded the Candles Museum in Terre Haute, Indiana and devoted her life to Holocaust awareness, was 85.  "We are deeply saddened to announce the passing of Eva Kor, Holocaust survivor, forgiveness advocate, and founder of CANDLES Holocaust Museum and Education Center," the museum said on its Twitter account.
---
5 July 2019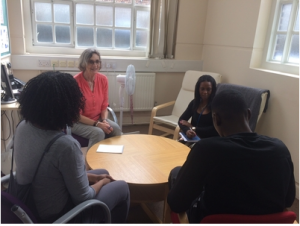 Tackling serious youth violence in Lewisham
Sitting round a table during the first half hour of their contact with Lewisham Youth Offending Service, a child has opened up to their parent for the first time.  They both discussed their frustrations and the child spoke about what led them to get into trouble with the law. "I didn't realise they felt that way", the parent confesses at the end of the session.
---
24 May 2019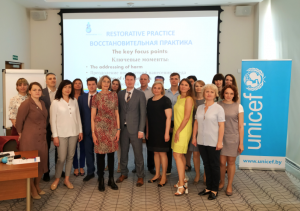 Recovery practices: content and main approaches
On May 24, Minsk hosted a training seminar "Recovery Practices: Content and Main Approaches", organised by the United Nations Children's Fund Office (UNICEF) in Belarus.  He continued the cycle of activities on restorative juvenile justice.
---
12 June 2019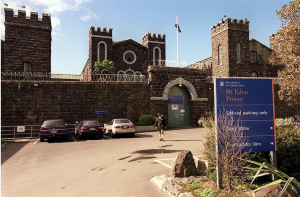 Restoration, not punishment, is key to criminal justice reform for Maori
A new report from the justice advisory group Te Uepū Hāpai i te Ora challenges the government to find solutions in te ao Māori that restore relationships and mana instead of continuing to feed Māori into the criminal justice system.
---
RESILIENCE
The biology of stress and the science of hope
THE CHILD MAY NOT REMEMBER, BUT THE BODY REMEMBERS.
Researchers have recently discovered a dangerous biological syndrome caused by abuse and neglect during childhood. As the new documentary Resilience reveals, toxic stress can trigger hormones that wreak havoc on the brains and bodies of children, putting them at a greater risk for disease, homelessness, prison time, and early death. While the broader impacts of poverty worsen the risk, no segment of society is immune. Resilience, however, also chronicles the dawn of a movement that is determined to fight back. Trailblazers in pediatrics, education, and social welfare are using cutting-edge science and field-tested therapies to protect children from the insidious effects of toxic stress—and the dark legacy of a childhood that no child would choose.
---
18 November 2018
Teenage boy admits assaulting Wales rugby legend Gareth Thomas in hate crime
Police have confirmed a 16-year-old-boy has been dealt with after former Wales captain Gareth Thomas revealed he was a victim of a homophobic attack in Cardiff on Saturday.

---
13 November 2018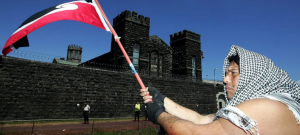 One law for all or one justice for all?
The two need not be the same, Moana Jackson tells Victoria University of Wellington's conference on restorative and Māori justice approaches to New Zealand's prison crisis
Dr Moana Jackson, one of Maoridom's most influential legal scholars, has a question for New Zealand: are we "brave and imaginative enough" to stop insisting on one law for all.  Click here to read full article
---
7 November 2018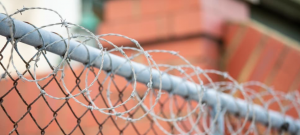 Restorative Justice answers to grim prison stats.
"New Zealand, with its global ethical reputation and strong institutional foundation in ethics, should not sit between Saudi Arabia and Columbia in the international rankings when it comes to imprisonment – and yet it does," Victoria University of Wellington's Brian Picot Chair in Ethical Leadership, Professor Karin Lasthuizen, told a University-organised conference on restorative and Māori justice approaches to the country's prison crisis.  Click here to read full article
---
28 October 2018
Tracey McIntosh: investing in state care not state prisons
Professor Tracey McIntosh says many inmates, particularly women, are going straight from state care to state prisons. Her research on incarceration of mainly Maori has shown a distinct pattern of children who are removed from their families being on a trajectory to prison.
Please click below to listen.
---
27 October 2018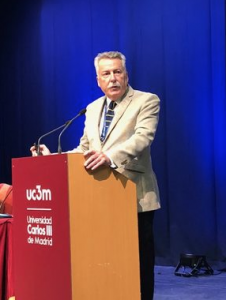 Tim Chapman – Restorative justice in Northern Ireland
Tim Chapman is from Northern Ireland, where he works in the area of restorative justice in the community and in prisons.  He was employed by the probation service for 25 years and is now teaching a Masters programme in Restorative Practices at the University of Ulster.  Chapman has researched and published widely on effective restorative justice and was principal researcher for the Alternatives project, which focuses on restorative justice and intercultural conflict.  He is chair of the Board of the European Forum for Restorative Justice.
Please click below to listen.
---
12 August 2018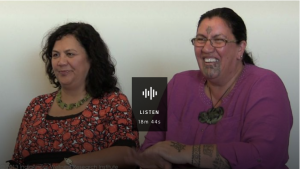 Soul Wounds
According to Mental Health Australia, trauma is a major public health problem in Australia, with 5 million adults affected by childhood trauma.
Some academics are also concerned with the ongoing impact of colonialism and racism on First Nations peoples, and they're calling for more culturally appropriate services to deal with the symptoms of the resulting trauma.
Leonie Pihama and Rihi Te Nana have spent three years researching the subject, and say the evidence shows universal trends of intergenerational trauma amongst First Nations' people worldwide…please click to listen.
---
18 July 2108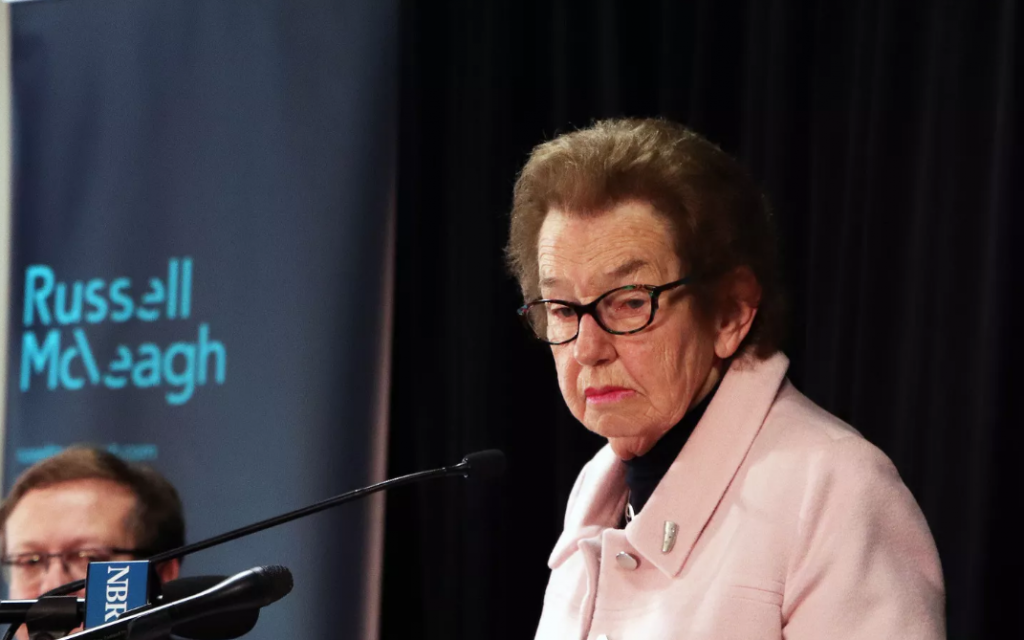 In the wake of Dame Margaret Bazley's report into sexual misconduct at law firm Russell McVeagh, Professor David Karp's public lecture at Victoria University of Wellington couldn't have been timelier, said the University's Diana Unwin Chair in Restorative Justice, Professor Chris Marshall.
Click here to read full article…
---
15 July 2018
David Karp: restorative justice in universities
From Sunday Morning. 10.04am on 15 July 2018…please click to listen.
---
Routledge International Handbook of Restorative Justice
Chapter 15: Introducing restorative practice in healthcare settings   –
Janine Carroll and Dan Reisel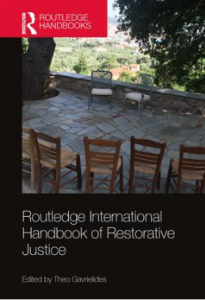 This up-to-date resource on restorative justice provides scholars, practitioners, students and policymakers from around the world with a comprehensive and authoritative review of original research in new and contested areas.
Bringing together contributors from across a range of jurisdictions, disciplines and legal traditions, this edited collection provides a concise, but critical review of existing theory and practice in restorative justice. Authors identify key developments, theoretical arguments and new empirical evidence, evaluating their merits and demerits, before turning the reader's attention to further concerns informing and improving the future of restorative justice. Divided into four parts, the Handbook includes papers written by leading scholars on new theory, empirical evidence of implementation, critiques and the future of restorative justice.
---
Restorative Now co presenting workshop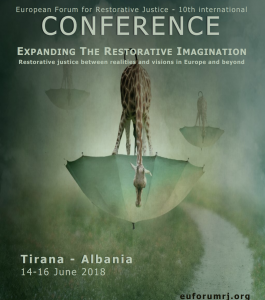 Juvenile justice: the application of restorative practice when young people exhibit harmful sexual behaviour
Aruliah & Carroll & Vincent, UK
on morning of 15th June 2018
Please click to view Conference Booklet
---
Restorative Justice – How it actually works

Retired District Court and Youth Court judge Fred McElrea and Chris Marshall (pictured), the Diana Unwin Chair in Restorative Justice at Victoria University, are experts in the application of restorative justice and discuss its use and why there can be a lack of acceptance from the public on it being the best course of action.

---
Family Group Conferences under-resourced and inconsistent-report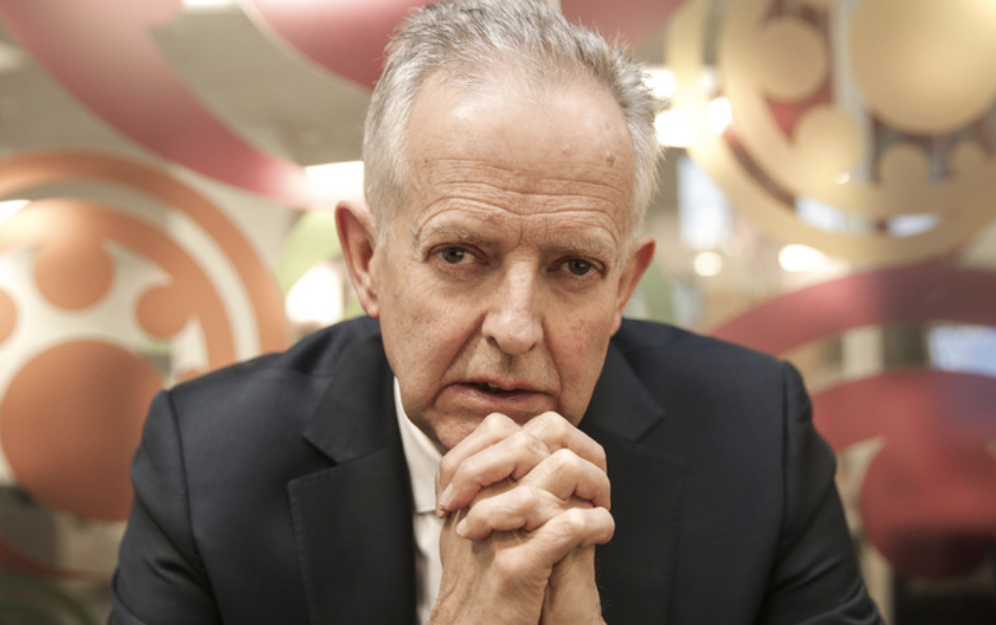 Family Group Conferences have failed to fully involve hapū and iwi, and the services have been patchy and inconsistent, a new report has found.
Children's Commissioner Andrew Becroft said the system – designed to help at-risk children and young offenders – is under-resourced and needs significant change and improvement.
Click here to read full article.
---
Restorative justice in UK schools 'could help reduce exclusions'
Campaigners call for better resolution of conflicts after figures show 35 children a day are expelled from English schools

Campaigners are urging the government to support the introduction of 'restorative practice' which prioritises conflict resolution over punishment in schools following alarm at an increase in the number of pupils being excluded.
Click here to read full article.
The council is releasing three short films to promote the use of restorative practice in schools. Click here to view films.
---
4 February 2017
Restorative Justice: victim's family and offender find peace
---
Positive Peace in Schools – Book Review
Dr Hilary Cremin and Terence Bevington have written a well-researched and eminently practical book exploring why and how schools can and should work towards building positive peace – that is, social justice. The book is Positive Peace in Schools and click here to read an excerpt from the Introduction, in which the authors set out their aims.
---
18 January 2017
Hornchurch pupils use innovative healing-based approach to combat playground problems
A handful of schools around the borough have adopted an unconventional method of resolving issues between pupils
---
What happens when we stop putting people in boxes…
---
Moving beyond the crime in hate crimes: Community and restorative justice considered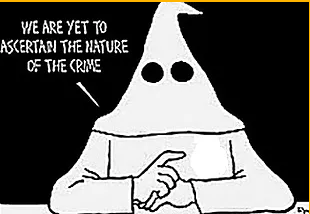 Violence in all its forms is a matter of concern. However, violence that also corrupts our ability to function and live together as a society, and denies our humanity and value as human beings is a cause for even greater concern. Hate crime is one example, and the international debate on how to address the attitudes that foster it is now more timely than ever
Click here to read article
---
Can psychology help solve long-running conflicts?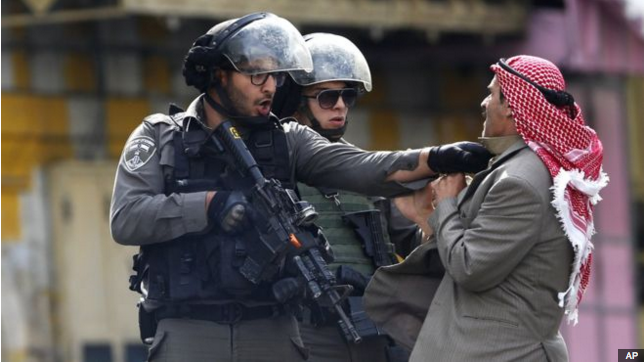 Conflicts can involve different nations and religions, different races and classes.  Some of them seem intractable: the tensions and hatred seem depressingly permanent.  But there are a number of social psychologists who have been studying how prejudice and distrust between groups can be overcome.  Click here to read article… 
---
Can you teach people to have empathy?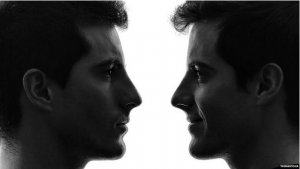 Empathy is a quality that is integral to most people's lives – and yet the modern world makes it easy to lose sight of the feelings of others. But almost everyone can learn to develop this crucial personality trait, says Roman Krznaric.
Click here to read article…
---
Restoring Hope 2013
This often confronting documentary observes a Māori restorative justice model through the eyes of straight-talking Mike Hinton, manager of Restorative Justice at Manukau Urban Māori Authority. The bringing together of victims (including wider whānau) and offenders may offer an alternate way forward for "a criminal justice system failing too many and costing too much". Restoring Hope kicked off Māori Television's 2013 season of Sunday night docos. In a Herald On Sunday preview, Sarah Lang argued it was "enough to restore hope in local documentary-making."



---
11 March 2016
Sheffield mum hugged shoplifter who hit her in the face
A Sheffield mum who was bludgeoned in the head by a fleeing shoplifter later came face-to-face with her attacker – and hugged him.
Click here to read more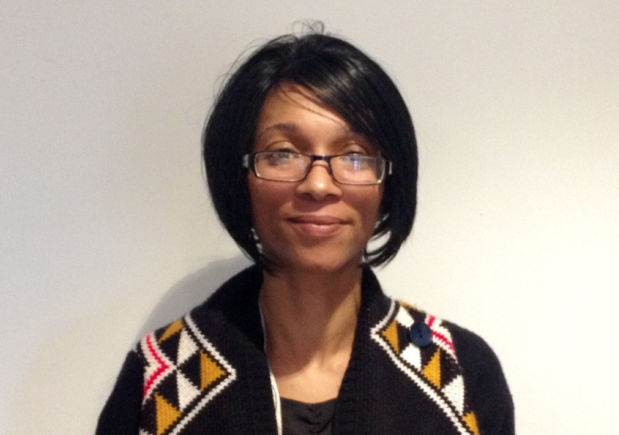 ---
15 February 2016
Russell Simmons present Def Poetry Jam – Knock Knock
---
30 January 2016
Prison as bad as you can imagine, watchdog Hardwick says –
Prison is not "soft" but is "as bad as you could possibly imagine", the outgoing chief inspector of prisons in England and Wales has said.
Click here to read more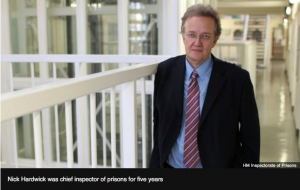 ---