Click here to view our training options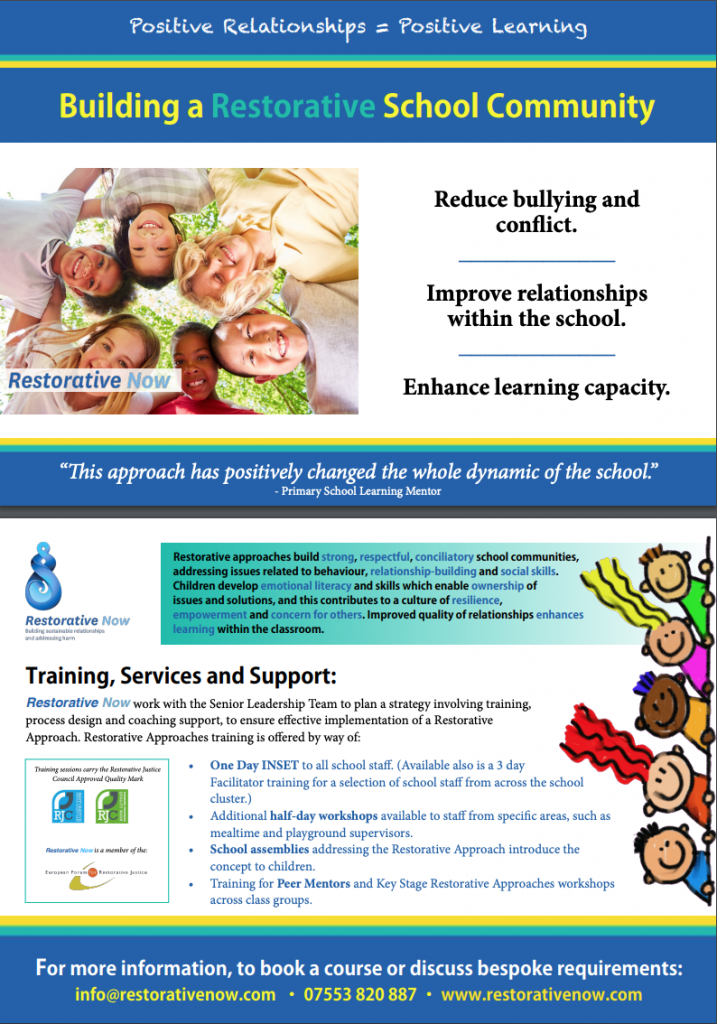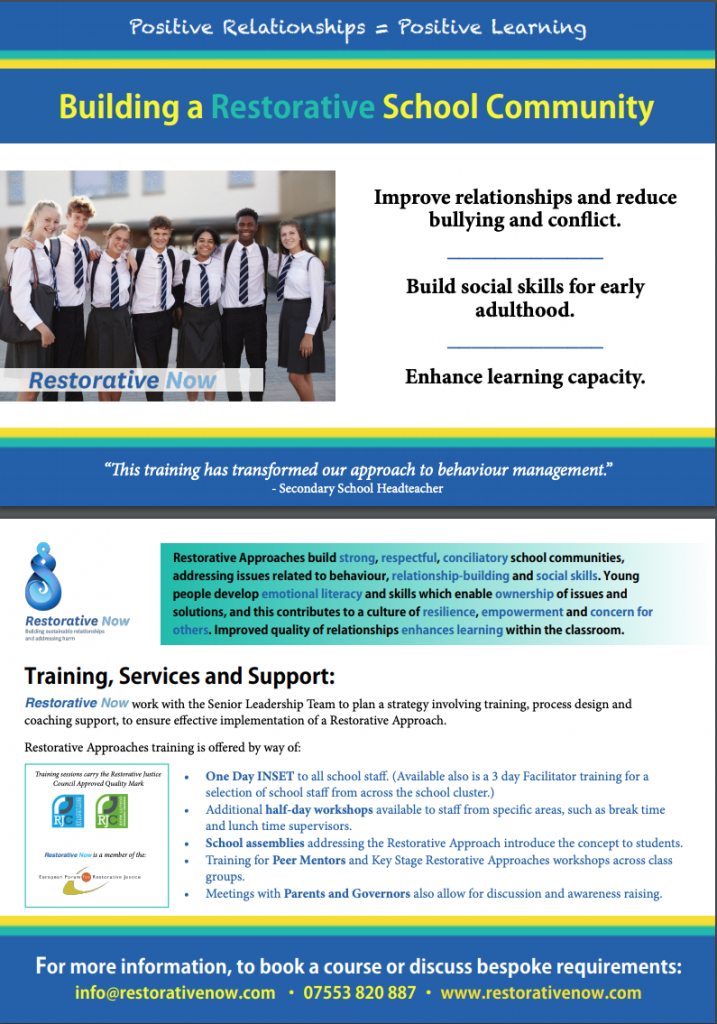 Restorative Practice in Schools
Restorative practice in schools helps pupils resolve conflict, build trust and prevent harm.
In these films, young people share how restorative practice has helped them deal with conflict and improve relationships, inside and outside of school.
These films are part of the Restorative Justice Council's Voices of Young People film series, sponsored by Mishcon de Reya.

---
Please click the following link for various resources shared at Restorative Justice Week in November 2014.
https://www.gov.uk/government/publications/restorative-justice-week-16-to-23-november-2014
RESTORE our Schools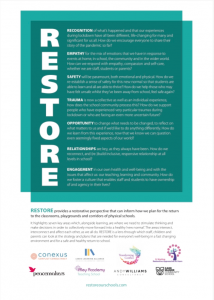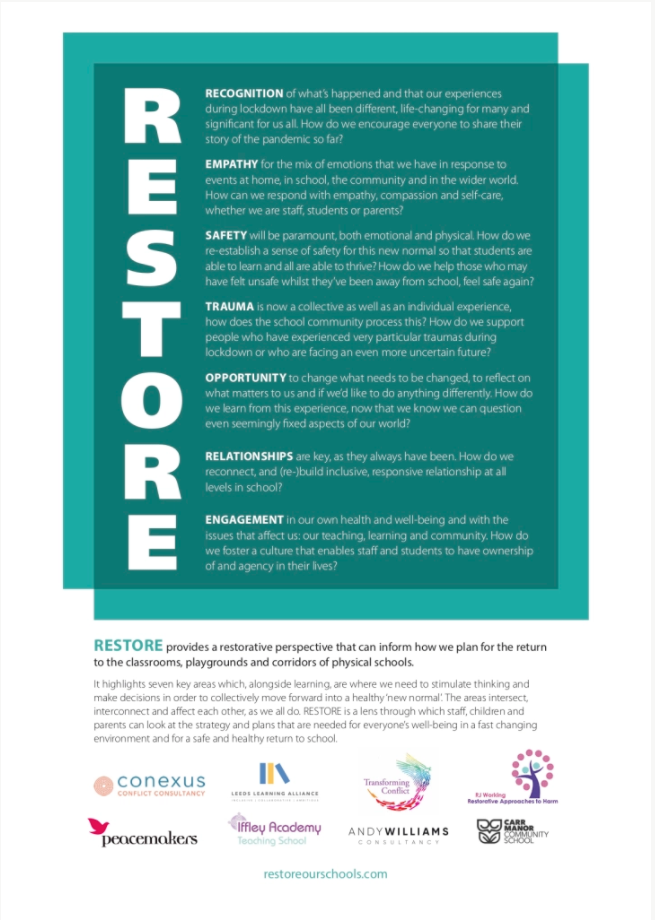 In collaboration with outstanding and influential restorative colleagues from across research, training and practitioner roles, Restorative Now have contributed to the co-creation of useful resources designed to guide school planning for transition back to school post lockdown. The RESTORE framework focuses on core considerations in community building and caring for the children, their sense of belonging and wellbeing, against the backdrop of an integrated school culture which focuses upon the health of relationships and provides forums for communication.
Please consult the resources and also track the #Restorative_Ed site https:://www.facebook.com/restorativeed/
The place of Restorative Practice in Education
The Context
Restorative Now recognise the specific benefits for staff, children and their families in being part of a Restorative School community. The key focus of Restorative Practice is the strength of relationships within a community and the capacity of that community to address relationship strain and harmful behaviour in that a way that allows for the effective addressing of that harm and the healing of the relationship.
A school's capacity to deliver a high standard of teaching and learning is predicated on the health of the relationships within that school community. In presenting compelling theory, activities and skills through training workshops, staff and children learn an approach which allows for the voice of those impacted by an event to share their perceptions, feelings and needs and then collaborate on resolution.
Restorative Practice and Mind-set Theory
Restorative Now recognise the enormous gains on offer to children through the implementation of a restorative culture within a school. Strong links are evident between the Restorative Approach and the Mind-set Theory of Learning. A child's capacity to learn can be impeded by a fear of failure and by states of shame related to previous life events. These often relate specifically to responses to their perceived failure at a task or their commission of harmful behaviour. Restorative communities afford individuals the dignity of addressing mistakes and harmful actions within the context that these events represent opportunities for learning and subsequent behaviour change.
Testing one's boundaries and risk-taking in learning, requires a measure of self-belief and a sense of safety. In order for children to engage in educational programmes and reach for higher goals, a culture reflecting this need for safety is essential. This culture is best typified in its response to incidents of failure, behaviour and discipline, and it is here that Restorative Practice provides a model to promote the capacity of every member of the school community to nurture growth and self-actualisation.
The Ofsted Framework
The OFSTED Framework – 'Behaviour and Safety' September 2012, sought to showcase schools which "create a positive culture to prevent and tackle bullying".
School qualities evidenced in the report were:
Clear expectations and rules on how pupils interact with each other
Positive Culture where pupils respect individual difference
Develop empathy
Recognise the effect bullying has on others
Pupils taking responsibility for preventing bullying
Children's pride in themselves and their school
These aims are a close fit with those of a Restorative School.
Restorative Practice and Trauma Informed Therapy
The other key point of reference regarding the place of Restorative Practice in Schools is the recognised synergy between Restorative Practice and Trauma Informed Therapy. It is widely recognised that children exposed to abuse and neglect will evidence difficulty in – behaviour and emotional self-regulation; the capacity to describe emotions; and the ability to sustain goal-directed behaviour – all unfortunately common-place behaviours in schools and additionally challenging for teachers and classmates alike. For these specifically affected children, this makes attending to learning tasks difficult, and their behaviour will often cause harm or disruption to those around them. In these incidents of Developmental Trauma Disorder, Restorative Practice provides a non-judgemental forum for all of those affected parties to discuss impact and need, and to strive to repair relationships as an outcome. Neuroscience confirms that in these affected children, there is evidence of developmental lag and the provision of a forum which invites dialogue related to 'feelings and needs' does assist in 'rewiring' and healing. Indeed, the development of empathy and the capacity to shift from states of shame is required by all individuals. To be afforded the opportunity to voice impact and need, contributes to the growth of emotional intelligence and a strong sense of self.
The Evidenced Outcomes
Restorative Now have experience in working in over 50 schools, across Primary, Secondary, Alternative Provision and Special Needs settings. Outcomes post- implementation have been evaluated and proven to have impact across key areas:
Positive shift in quality of relationships between children
Positive shift in quality of relationships between children and staff
Positive shift in quality of relationships between staff and families
Positive shift in child's reflective capacity
Positive shift in child's sense of self-worth
Positive shift in child's empathic capacity
Positive shift in child's capacity for motivation and engagement in education programmes
Positive shift in child's sense of resolution of event and meeting of need
Positive shift in child's capacity to regulate behaviour
Positive shift in child's capacity to describe feelings
Less teaching days lost due to absenteeism and seclusion.
Restorative Now Implementation Strategy
Restorative Now initially focus on working closely with the Senior Leadership Team of a school, to raise awareness of the Restorative Approach and then assist with planning implementation strategies which align with school values and vision. A comprehensive training and implementation plan is modelled to suit the requirements of the school. This strategic implementation covers the following intervention:
All of school Inset Day
Additional coaching workshops for specialist mealtime and playground staff
Awareness-raising meetings with parents and governors
Co-ordination and delivery of Key Stage school assemblies
Selection and training of Peer Mentors
Input in the development of school specific resources to reflect Restorative Culture Change
Provision of Intensive three day Restorative Practice Facilitator training for selected school staff from cluster based school group
Guidance to Senior Leadership Team in the profiling of their school as a Restorative Community, and the collection and collation of data capturing key gains and behaviour shifts to inform evaluative findings
School Community Participant's comments
'The Restorative Approach has positively changed the whole dynamics of the school.'
Learning Mentor
'Restorative Practice is at the heart of our school culture now and is the number one priority to see it further embedded.'
Deputy Head Teacher
'Parents were initially sceptical but after it had been used they said 'So it does actually work'.
Head Teacher
'There has been a change of attitude – this isn't just about sticking plaster – the changes are lasting'.
Head Teacher
'Situations dealt with haven't reoccurred – before they would have.'
Head Teacher
'The approach has had a huge impact on a historically challenging group of children who now respond differently as a result of repeated restorative interventions.'
Deputy Head Teacher
'There are less upsets in the playground.'
Deputy Head Teacher
'No-one's fighting anymore'
Peer Mentor