Restorative Now has joined with a collective of restorative practitioners, researchers and activists in education to address these needs in education settings. RESTORE is a response to the challenges facing schools in the time of Covid19, and addresses the application and implementation of Restorative Practice schools at this time.

The time of (inter)national crisis requires dialogue and responsiveness to one another's needs. Restorative practice offers an active space in civil society to help people and communities hear and heal.

The imperative to promote the application of Restorative Practice in schools, is now more urgent than ever. As school communities navigate the requirements of transitioning back with requirements of ongoing social distancing, we are aware that for positive and healthy relationship reconnection to occur, this requires engagement with individuals' shared personal experiences of lock-down and the ongoing impact they carry. RESTORE offers a framework for sitting with, and responding to, our human frailty and vulnerability, and our resultant venting behaviours.

The community of a school is a labyrinth of relationships and requires this measure of responsivity and recognition, because it is the quality of relationships that keeps the school community safe and nurturing, thus enabling it to harness the excellence in teaching and learning. The restorative approach in schools is needs-led and values-based. It highlights the importance of relationships for emotional wellbeing and resolving relationship stress, preventing harm and building resilient communities. The approach works by building a consistent and congruent approach to the building, maintaining and repairing of relationships. The approach allows decisions to be made with reference to five core Restorative Principles: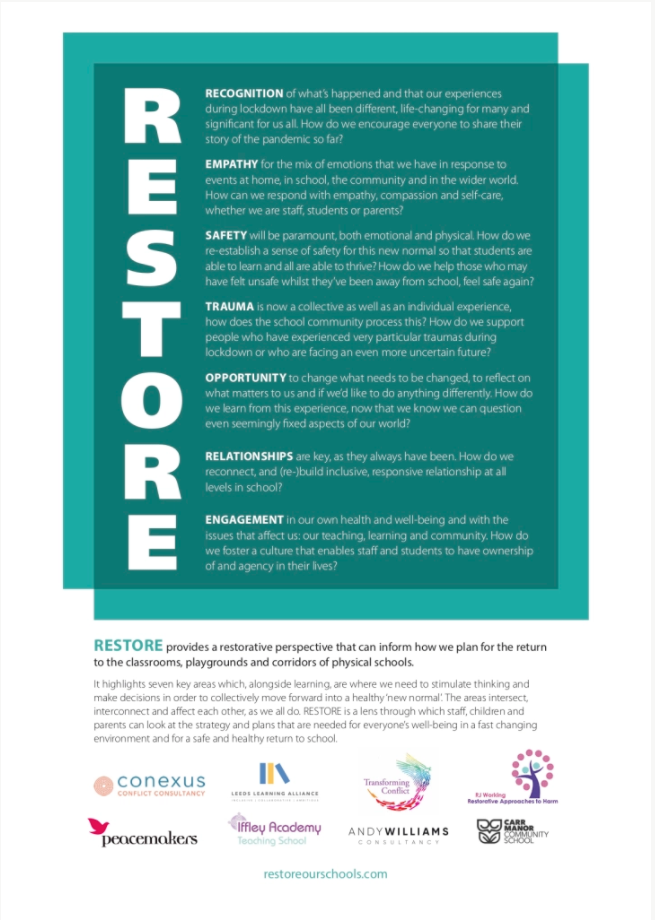 Everyone has a unique perspective
Our thoughts and feelings influence our behaviour
Our actions have a ripple effect
We have needs that connect us to people and purpose
The people best placed to find solutions are the people themselves
Now in the time of Covid, the specific application of Restorative Practice to potentially fractured communities is even more pertinent. It is essential that there be a forum for dialogue. The absence of such a forum promotes othering and polarisation.